Contact Us
Address:
No.8 Yuning Xi Road, Wujing Changzhou, Jiangsu, China
Tel:
0519-85858519
Mobile:
+8618761195338 Mr. Zhu
Email:
jp@jsjiapu.com
ultrasonic quilting machine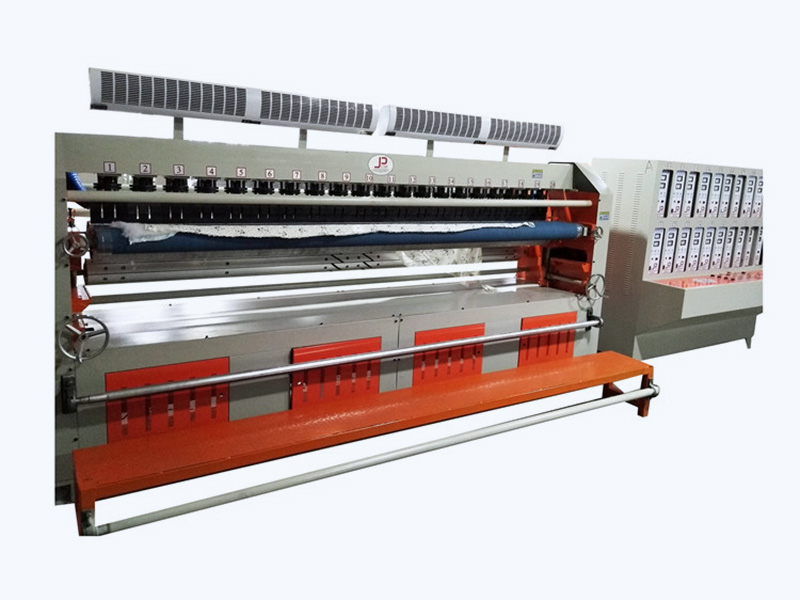 Description
The ultrasonic sewing quilting machine utilizes ultrasound technology to complete no-needle, no-thread quilting operations. It can bond and emboss laminations of various chemical fiber fabrics, non-woven fabrics, gush glue cotton, and artificial leather.
The machine is easy to operate and patters come out clear and beautiful. The fabric will not be easily deformed. The bonding is solid and without using needles, production efficiency is significantly increased.
According to customer demands, the pattern roller can also be freely replaced, allowing for different patterns with various effects to be pressed. It is an ideal equipment for the production of bed covers, bedspreads, pillowcases, quilt covers, quilt, mattress, sofas, car mats, garments and bags, etc.
Parameters
| | | | | |
| --- | --- | --- | --- | --- |
| Model | Power supply | Effective width | Dimensions | Net weight |
| JP-1000 | 7KW 380V 3 phase (220V) | 1000mm | 5x1.5x1.8m | 1000KG |
| JP-1600 | 7KW 380V 3 phase (220V) | 1550mm | 5x2x1.8m | 1500KG |
| JP-1800 | 8KW 380V 3 phase (220V) | 1800mm | 5x2.3x1.8m | 1800KG |
| JP-2300 | 8KW 380V 3 phase (220V) | 2300mm | 5x2.8x1.8m | 2300KG |
| JP-2600 | 9KW 380V 3 phase (220V) | 2600mm | 5x3.1x1.8m | 2600KG |
| JP-2800 | 9KW 380V 3 phase (220V) | 2800mm | 5x3.3x1.8m | 2800KG |
| JP-3000 | 9KW 380V 3 phase (220V) | 3000mm | 5x3.5x1.8m | 3000KG |
Configuration
This machine features the latest ultrasonic control box design that provides strong and stable power. It is suitable for longtime continuous operation.
Built-in multi-channel ultrasonic protection system to ensure safe and stable operation of the machine.
The whole machine is comprised of an embossing compound mainframe, ultrasonic control cabinet, finished products rewinding machine, and bracket for storing fabrics.
Features
The sewing quilting machine is equipped with a professional level adjuster for pattern roller, which can quickly and freely correct its levelness.
Avoid the trouble of needles and threads of traditional sewing through the use of unique no-thread quilting technique.
The quilting width varies from the minimum value to 3000mm, and any pattern can be created simply by replacing the pattern roller.
The service life of the high-tech handler horn is four times longer than that of the traditional thin horn.
Using an imported ultrasonic transducer with powerful sound wave, the quilting effect completed in a high level of quality.
Simple operation, high quilting strength, high production efficiency.